It is not well-known that when a person has hip pain, the pain may be coming from the spine. The person may be having pain around the hip they think is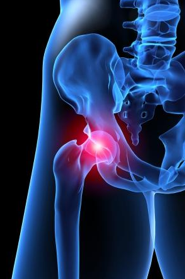 from arthritis or a hip injury, however, that is not always the case.
There are multiple issues in the spine that may lead to hip pain such as spinal stenosis. Spinal stenosis is a condition where the nerve roots that normally have no problem getting out from the spine are getting pinched due to overgrowth of bone from arthritis or overgrowth of soft tissues.
The pain from spinal stenosis can consist of an aching, cramping pain in the buttock, hips and thighs. This can masquerade as hip joint pain. It may have been sparked up from a work injury or an auto accident, as inflammation in the arthritic areas may lead to nerve root pinching.
One unusual source of hip and groin pain that occurs in younger individuals is an L5-S1 disc herniation. If the pain is out of a text book, it goes all the way down the leg into the foot. However, it may be an unusual presentation where the pain radiates into the hip and groin.
One way to delineate whether or not the hip pain is coming from the hip is for the Arizona injury doctor to perform a diagnostic injection of numbing medicine into the joint.
If the pain is relieved within a few minutes then most likely the hip joint is the actual problem. This injection should be done under image guidance, whether by fluoroscopy or ultrasound. This ensures accurate placement.
Through a careful history, physical examination and imaging studies, car accident and workers compensation doctors can usually determine whether the hip is the source of the hip pain. A diagnostic injection may become necessary to ensure that proper treatment is eventually undertaken.
If the hip is not the source of the pain (or only partially), while an MRI shows spinal stenosis, a series of epidural injections may provide relief rather than any more injections into the hip.