Welcome to…
AIMA – Workers Compensation and Your Personal Injury Doctors
Board Certified Workers Compensation and Personal Injury Doctors
If you have been injured at work or in an auto accident, AIMA provides EXPERT pain management treatment.
NCV's and EMG's are performed on site.
AIMA has both staff and doctors who are fluent in Spanish. Se Habla Español!
As an industrial medicine and personal injury practice, AIMA not only treats state injured workers and accident victims, but also federal injured workers. Patients are seen from Arizona and all over the US including such states as: Oregon, Alaska, California, New Mexico, Rhode Island and the Washington State Department of Labor and Industries.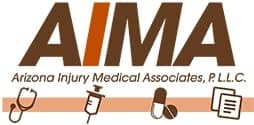 AIMA specializes in:
Federal Workers Compensation Claims (OWCP)
Federal Injured Workers evaluations including treatment, claim handling, and ratings.
OWCP ratings are complicated, and AIMA specializes in federal injured worker ratings for postal workers, border patrol and FBI agents; essentially any government employee injured on the job around the country. The staff and doctors at Arizona Injury Medical Associates care about your physical and emotional well being. With our friendly staff and Double Board Certified Doctors who are experts in injured workers and personal injury victims, you will be in good hands. Where Injured Patients Go for Experience and Results!