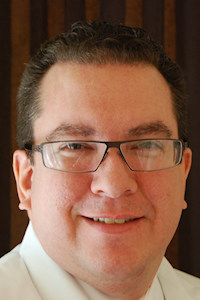 Demitri A. Adarmes, M.D.
Federal Workers Compensation Doctor
Medical Director
"My goal is to help people achieve the highest level of function possible. That's why I chose to become a physiatrist and internist.
With specialized knowledge of internal medicine, physical medicine/rehabilitation and acupuncture, I try to give my patients the power of independence. People recovering from surgery, injury, or debilitating conditions simply want to return to their lives.
So I form a partnership with them, listen to their concerns and then address their needs with a treatment plan tailored to their specific situation to give them the most complete care possible."
Board Certified:
American Board of Physical Medicine & Rehabilitation, American Board of Internal Medicine
Fellow:
American Academy of Physical Medicine & Rehabilitation
Interventional Spine & Pain Management Training:
Orthopedic Surgery Associates, Boca Raton, FL
Residency:
Internal Medicine, Creighton University Medical Center, Omaha, NE
Physical Medicine & Rehabilitation, University of Virginia Health Sciences Center, Charlottesville, VA
Acupuncture Training:
University of California Los Angeles School of Medicine
Education:
MD, University of Miami School of Medicine, Miami, FL
BS, Computer Science, Cum Laude, University of Miami, Coral Gables, FL
Member:
American College of Physicians, American Academy of Physical Medicine and Rehabilitation, International Spine Intervention Society
Author/Researcher:
DiBenedetto M., Gale S., Adarmes D., Schabacker M., F-Wave Acquisition Using Low-Current Stimulation, Muscle & Nerve, 2003 Jul;28(1):82-6.
Dr. Adarmes was born in Venezuela and raised both in Venezuela and Miami, Florida. He has been in private practice since 2001 treating a number of physiatry and internal medicine conditions . He is passionate about patient care and honing in on a diagnosis for an appropriate treatment plan.
Dr. Adarmes derives a great deal of satisfaction from being a physician. His family is the cornerstone of his life and he spends as much time as possible with them. His interests include: computers, traveling, going to the firing range, cooking and learning about other cultures.
For more information about Federal Workers Compensation Doctor, visit our website.